Did you know that a 4-letter word could save your life?
If you're thinking of the 4-letter words that typically spring to mind, then the idea of a 4-letter word as a life-saver, seems ridiculous.
But, not if that 4-letter word happens to be 'EXIT'.
While the word exit, and the proliferation of exit signs that we see all around us in Canada seems commonplace now, there was a time not that long ago when exit signs weren't even considered essential to building safety.
Disasters such as the 1911 NYC Triangle Shirtwaist Factory fire have been attributed as catalysts for legislative changes governing the use of exit signs and the use of emergency lighting. This horrific industrial disaster resulted in the deaths of 146 female factory workers, with approximately 40 women jumping to their death, from the 8th, 9th and 10th floors, when a fire struck and the stairwell exits (the only escape route) were not property marked and the stairwell doors and exits, which had been locked by factory managers, prevented workers from escaping the fire.
Thankfully, the Exit Sign has now become a mandatory life safety device. These simple, yet critical signs give occupants of a building a visual guide along the path of egress - the fastest route out of a building - during a fire or other emergency. Exit signs display an illuminated version of the word 'EXIT' in either red or green. They are required to be permanently installed high above doors and along corridors and unobstructed in the line of sight to serve as a visual guide to the nearest escape path.
EXIT SIGN OPTIONS IN CANADA
Because exit signs are so critical to life safety, it's important that they operate continuously in an emergency situation such as a fire. There are 4 general types of exit signs: LED Exit Signs, Incandescent, Fluorescent and Glow in the Dark Exit Signs.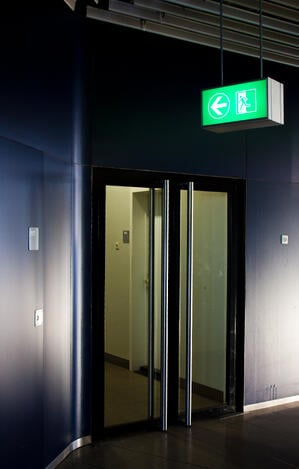 If you need to install an exit sign into a location with access to electricity, an LED exit sign is the best choice in terms of reliability, cost- and energy-efficiency. LED Exit signs consume less than 5 watts of electricity, and can save between 78-95% in energy costs as compared to incandescent and fluorescent signs. LED exit signs use 120 or 277v AC electrical power and operate after power loss via an internal battery backup system. Battery backup lasts up to 90 minutes.
If electricity is unavailable, a glow in the dark exit sign is the practical choice. These exit signs are non-electrical and simply glow in dark environments. Glow in the dark exit signs meet the same requirements as electrical exit signs, so compliance should never be an issue.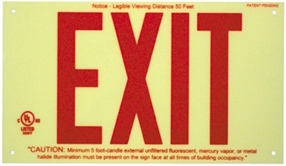 Photoluminescent UL/ULC Exit sign

 
NFPA and Fire Codes mandate that exit signs are visually inspected once per month. An annual inspection is also mandatory. During the annual inspection, exit signs are switched to battery power for 30-90 minutes depending on the application. Batteries and fixtures are checked to ensure they are not damaged.
EMERGENCY LIGHTING OPTIONS IN CANADA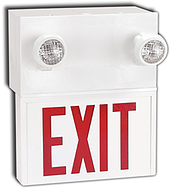 Emergency lighting works in tandem with exit signs as a means of illuminating and guiding occupants to safety in the event of an emergency. The purpose of emergency lighting is to illuminate the pathway along a building's egress routes so occupants can exit safely during a power outage, and to illuminate pathways and improve visibility for emergency personnel.
The four main types of lights are: regular, wet condition, industrial grade and hazardous. Here are some of the key features and applications for each type of emergency lighting:
Regular:
Commonly made of thermoplastic material
Designed for common areas of apartments and condo complexes, office buildings and retail outlets
Used where extreme weather or hazardous materials are NOT an issue
Wet Condition:
Impervious to rainfall and inclement weather
Usually housed in a rust-resistant fiberglass casing
Some have internal heaters to prevent batteries from freezing in cold weather
Wet condition lighting is suitable for high humidity interiors such as swimming pools and greenhouses
Industrial Grade:
Often used in public parkades, warehouses, industrial operations, large public venues
Made from durable materials like steel to withstand significant damage and vandalism.
Hazardous:
Used in industrial settings containing flammable air-borne debris and vapours
Designed to prevent casing from being penetrated by debris and vapours
Made of steel to withstand damage
Also offered in explosion-proof models.
As per NFPA and local authorizing jurisdictions, most buildings are required to perform a once monthly 30-second test of all emergency lights. This test can be done internally, however the annual inspection must be performed and documented by a certified fire protection service company. This inspection includes illuminating lights via battery power for 30 minutes - 2 hours (depending on the application), checking batteries for corrosion, damage and shelf-life, checking fixtures for corrosion or cracks, checking wiring to inverters to ensure they're not damaged.
Make sure to purchase LED exit signs and emergency lighting from an established safety supply company or a reputable fire protection service provider so that you can be confident about the quality, reliability and compliance with Fire Code regulations.
Exit signs and emergency lighting are critical components in a complete life safety and fire safety protection system and are mandated in all public buildings throughout Canada.
Is your building properly equipped with the exit signs and emergency lighting that are best suited to your building's function and environment?