Just over a year ago, Ontario's Community Safety Minister Madeleine Meilleur announced important new fire safety regulations impacting retirement homes and long-term care facilities. The law took effect January 1, 2014.
Amendments to the Ontario Fire Code and Building Code for retirement homes and long-term care facilities include:
Mandatory retrofit for fire sprinklers (for most, by 1/1/2019)
Smoke alarms in individual sleeping rooms (by 3/1/14)
Fire alarm monitoring and emergency lighting (by 1/1/15)
Self-closing doors and voice communication systems (by 1/1/16)
Annual fire drills representing lowest staffing level scenario as approved by local fire services (by 1/1/14)
Sufficient number of supervisory staff available to assist residents to evacuate in an emergency (by 1/1/14)
Recordkeeping for training of supervisory staff on roles and responsibilities within the fire safety plan (1/1/14)
Annual validation of fire safety plans by local fire services (by 1/1/14)
All owners and operators (or delegates) responsible for implementing approved fire safety plan to complete mandatory training (by 1/1/17)
Ontario is the first province to make automatic sprinklers mandatory in care homes for seniors and those with disabilities. The changes were informed by a Technical Advisory Committee, which included the Office of the Fire Marshal and public input.
Deputy Fire Chief Matt Pegg, President of the Ontario Association of Fire Chiefs, has said the new sprinkler legislation "...represents the single biggest improvement in public fire safety since the requirement for mandatory smoke alarms..."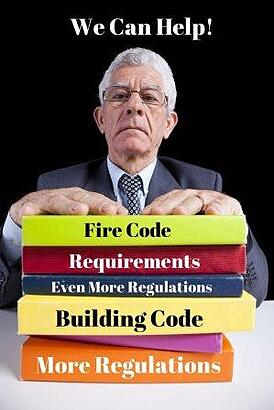 Why did this change come about?
In the past 34 years, 48 seniors have died in nursing home fires in Ontario. In many of these fires, sprinklers were not installed and could have saved lives. That is the worst fire fatality record for nursing homes in North America. According to the Ontario Retirement Communities Association which represents more than half of Ontario's retirement facilities, roughly 33% of Ontario's retirement homes still lack fire sprinklers (Globalnews.ca).
Not sure if your property falls under the scope of the new legislation?
It applies to all vulnerable occupancies, including care occupancies (group homes and supportive housing where residents need care for cognitive or physical disabilities and require assistance to evacuate), care and treatment occupancies (e.g. long-term care homes, nursing homes, municipal homes for the aged, charitable homes) and licensed retirement homes.
Here's what you need to know:
Retirement homes are already required to disclose whether they have a fire sprinkler system installed (per the Retirement Home Act of 2010).
New retirement homes (built since 1998) have already been subject to a sprinkler requirement (this is only new for retirement homes built prior to 1998).
There are an estimated 4,000 facilities across Ontario that were built before 1998, and which house over 200,000 seniors and other vulnerable residents.
Private facilities and licensed retirement homes have up to 5 years to meet the sprinkler installation requirements (until 1/1/2019).
Some facilities will have an 11-year phase in period, to be completed by 2025. This includes public long-term care homes. This is because the Ministry of Health is already slated to renovate its facilities in 2025, and the sprinkler upgrade will be incorporated into that project (

GlobalNews.ca

).
To help reduce costs, some smaller facilities will be able to install less expensive residential sprinkler systems instead of the more robust commercial sprinklers designed to protect property as well as lives (

TheStar.com

).
If you are in the Greater Toronto Area and would like to find out more about your available solutions for fire safety and compliance,
let us know
. You may also be interested in reading
our blog post on Fire Sprinkler Maintenance Do's and Don'ts here
.
Are you fire inspection-ready?
Take our assessment: