Here are eight user-friendly resources to improve your fire safety. We scoured the internet for some of the most useful, practical and easy-to-digest fire safety content. Since we are in the Greater Toronto Area, some of the information is specific to Toronto or Ontario, but much of it will be helpful no matter where you are located.
This list is oriented towards fire safety for businesses, municipal buildings, multi-unit properties and facility management providers in Greater Toronto.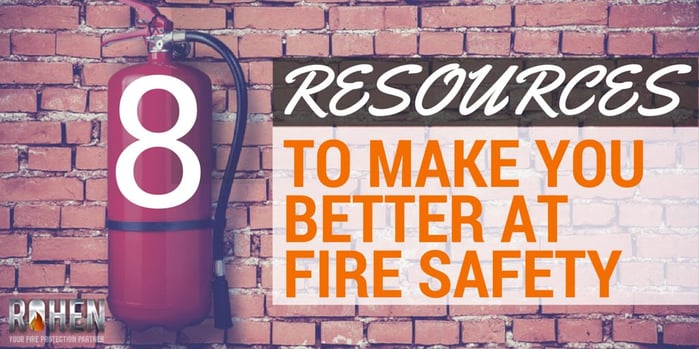 #1 The National Fire Protection Assocation (NFPA)

An industry leader, its only natural that the NFPA takes the number one slot on our list of resources. Here are a few of the many resources you will find on their site:

#2 Electrical Safety Foundation International (ESFI)




#3 Electrical Safety Authority (ESA)




The ESA is a government-mandated authority, regulator and advocate dedicated to enhancing public electrical safety in Ontario. Here are some of the resources you can find from the ESA:

Here is their video on "10 Shocking Facts About Electrical Safety."

#4 The National Fire Sprinkler Association (NFSA)

#5 The Ontario Fire Code

At the risk of being too obvious, the Fire Code is the measure of fire safety and compliance, so is always useful to have handy for reference. No list of resources on fire safety in the GTA would be complete without it.




#6 Ontario Office of the Fire Marshal




Every business owner and property manager in Ontario should be familiar with this site. Anything you need to know about local fire safety trends will show up here.




#7 City of Toronto's Safety & Fire Prevention


This is an important resource not only for its general fire safety information but also for the degree of relevance for anyone in Toronto. General principles of fire safety may be constant around the world, but when it comes to information about compliance with code, the closer to home the better.



#8 Rohen Fire Protection Services




While our #8 may be biased, Rohen Fire does offer a number of useful free downloads, including:




Did you find this post useful? Consider subscribing to get more fire safety resources for businesses in Greater Toronto.