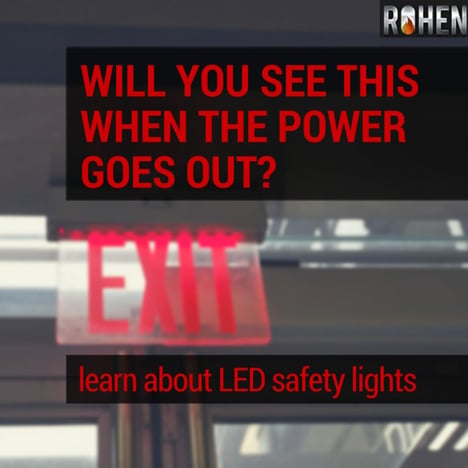 If you haven't installed new emergency lighting at your Toronto business in the past decade or so, you may be surprised by some of the new options available. One of the major changes is the transition to LED lighting.
LEDs have been used to meet fire code requirements for emergency exit signage for some time. Now they are being used for all kinds of lighting. You may even be looking at a computer that uses an LED-lit monitor as you read this.
The options and technologies will continue to present new opportunities for fire safety as the LED market undergoes explosive growth. LED lighting is expected to account for 36% of all lighting sales by 2020, and 74% by 2030.1 That's a major shift; so. . . what's so great about LED?
Benefits of LED lighting versus other types
Emit less UV radiation than other types of light
Very energy efficient (75% less energy than standard lights)
Harmless when broken (unlike CFLs)
Cold to the touch = safer handling and reduced fire risk
Saving energy is good for the environment. . . and your wallet . . .
Lower energy bills 2
Long lasting (25-50 times longer than standard lights)
Extremely durable
High reliability
Compact design
Can be very bright
Use maintenance-free, long-lasting Ni-Cad batteries that won't leak acid
What exactly are LEDs?
LEDs are light emitting diodes that create electroluminescence.
Particularly well-suited for industrial environments
Their durability and low heat make LED lights especially well-suited for industrial environments. Industrial environments may be subject to high levels of vibration, elevated temperatures, and dangerous gases and chemicals. These factors make safety planning a challenge. More than older safety lighting options, LED lights are built to withstand these tough conditions. Their low temperature means they won't introduce a new potential fire threat — which is an extremely compelling advantage in a high-risk work environment. LED lights can also be made resistant to corrosion and impermeable to water, dust and pollutants.
Read more about containing fire risks in industrial and manufacturing environments here.
Compliance with code
The need for adequate emergency lighting to mark exits and path of egress was established following major fires, some of which include:
Iroquois Theater fire in 1903 (602 fatalities). Among the causes: inadequate exit signage and confusing egress path.3
Cocoanut Grove nightclub fire in 1942 (492 fatalities). Among the causes: inadequate exit signage.4
North Carolina's Imperial Foods Products fire (chicken processing plant) in 1992 (25 fatalities). Among the causes: unmarked exits.5
Today, emergency lighting is a safety requirement in municipal, commercial and high-occupancy residential buildings. Safety lights, including exit signs, are mandated for most public facilities. One of the best and most common ways to meet emergency lighting requirements is with LED lighting.
What you are required to install and maintain to comply with code depends on your building, business and usage.
Like many other fire safety standards, including fire pumps, alarm systems and exit signage, emergency lighting must have a secondary power source, which must activate within ten seconds. In LED safety lights, when the power goes out, the auxiliary batteries will continue to operate the lights for a full 90 minutes (minimum). This allows time for people to safely evacuate and access any safety equipment or building maintenance that may be required in an emergency situation.
Planning for safety lighting
Emergency lighting is best addressed by fire protection specialists in coordination with architects and electrical engineers to ensure every point is consistent with fire and building codes.
Emergency lighting should meet requirements to sufficiently illuminate path of egress at a consistent level of light. Exit signage should be clearly marked and highly visibile.
Post-installation testing
Did you know that emergency lighting systems require regular testing and maintenance? After installation, testing is the building owner's responsibility. But, a good fire protection partner can make it as simple as possible for you.
Testing and maintenance guidelines, as outlined in NFPA 101, Sec. 7.9.3 require monthly visual inspection and functional testing, with a complete system test required once a year. (If you aren't already doing this testing, Rohen can help!)
Would you like to learn more about LED safety light options for your Greater Toronto Area business? Drop us a line.
Get our Fire Hazards Checklist for Businesses:
You may also be interested in our earlier posts:
Sources:
1 U.S. Department of Energy, Energy Savings Fact Sheet, 2012. (pdf)
2 Ibid. USDOE estimates $30B total savings across the U.S. in 2030 alone.
3,4 Baldassarra, P.E., FSFPE, Means of Egress: Lessons Learned, Fire Protection Engineering. April 2011.
5 North Carolina Chicken Processors Charged in Fatal Fire, Los Angeles Times. March 1992.
Wilson, Dale. Fire and Life Safety: Emergency Lighting, Consulting-Specifying Engineer. June 2012.